Legal Aspects of Running a Bed and Breakfast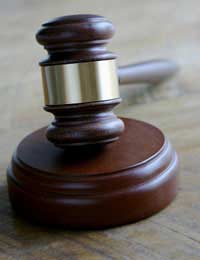 Many of the areas where there are legal aspects to running a B&B are covered in separate articles in this section, such as insurance and liability, the business structure and health and safety. There are other areas where you need to stay abreast of the law and those are covered here.
Our Advice – Put Solid Terms and Conditions in Place
It's important to make sure that guests are aware of your terms and conditions surrounding bookings. Decide on a policy for deposits and whether they can be returned, probably not if a guest cancels within a fortnight of their arrival, ten per cent if they cancel three months before, and a range of figures in between these too. If a guest cancels the week before and you only took a ten percent deposit, then you will need to persuade them to pay the rest.
Legally you're on very strong ground here on paper, particularly if you posted your terms and conditions to them once the booking was made. The reality is that if they don't pay then you would have to take legal action to get the money back. Always take legal advice before doing this but it is likely that it will come down to whether or not you think it's worth the time and aggravation to get the money back, which is basically a business decision. If it's going to get in the way of running a successful business then it may be wiser to back down and write off the loss.
Guests Behaving Badly or Running Off
If guests behave badly then you may have to call the police to eject them. Obviously it's best to try and sort it out before it get's to this point, but if that doesn't work, you will have to call the police, that's the only legal recourse that you have. Try and keep the action discreet and away from other guests if possible.
If guests have caused damage to the room or facilities, or perhaps run off without paying, and you cannot get them to repay you, then again the legal advice will be to sue. Consider first whether taking legal action might get in the way of running a B&B or perhaps might damage your reputation. Weigh up the time and money aspect against the cost to the business of the damage before proceeding.
Aspects of Small Claims
If the advice you receive is that you should sue to get your money back, for relatively low amounts (currently under £5,000), a claim can be pursued through the small claims court. Details of this can be found on government websites.
It can be done without legal advice as the process is fairly simple, but it might still be worth taking that advice to make sure you're on solid ground before submitting a claim. The legal advice may also allow you to claim back more in damages than you had considered possible as they will know the system better than you.
Ensure Customers Understand Your Terms
The main thing to remember with anything like this is that you must have made the situation completely clear to whoever it is who is causing the problem. So make sure that people who answer the phone and take bookings are aware of things they must say before taking the booking and follow up with copies of your terms and conditions in writing.
For behaviour, make sure there is an acceptable behaviour policy on display somewhere, perhaps on the wall of the room with the fire regulation notices, or in a small booklet in the room along with other information. It's not a good idea to draw attention to a long list of rules and regulations but make sure people are aware without pushing it in their faces and you should be covered.
You might also like...
Hi. We are planning to do b&b only with 2 bedrooms. In our 4 bed house. Do we need permission. I already have insurance.
If I'm doing a long term let on a B and B basis, how do I do it please in order to make sure the customers leave on the agreed date. Do they have any tenancy rights Many thanks
Lennie
- 1-Feb-17 @ 8:07 PM
B&Bdoctor - Your Question:
Recently contacted by PRS demanding that I buy a licence because we have TV in the 6 rooms of our B&B despite already having a TV licence good for 15 rooms; there are no radios in the rooms. Are they correct or does the TV livcence cover this ?
---
Our Response:
The TV licence is for a different purpose - and pays for the BBC to produce programmes, public service output etc. The music licence is to protect musicians' recording rights/royalties. According to a legal ruling, PRS for Music is legally entitled to require B&Bs and Guest Houses with TVs or radios in guest rooms to pay a licence. Licences for music in guest bedrooms start from £44 plus VAT per year, for up to 15 bedrooms (more details are on the PRS website).
StartABedAndBreakfast
- 2-Dec-16 @ 11:23 AM
Recently contacted by PRS demanding that I buy a licence because we have TV in the 6 rooms of our B&B despite already having a TV licence good for 15 rooms; there are no radios in the rooms .. Are they correct or does the TV livcence cover this ?
B&Bdoctor
- 1-Dec-16 @ 12:30 PM
I stayed in bed and breakfast accommodation in a public house. There was no one on site at all after the bar closed and the staff went home. There was no contact number and no one to answer any queries. Is this legal??
Chell
- 10-Oct-16 @ 9:49 PM
Julie - Your Question:
I run a b and b as I was wondering how long a person would be able to stay before they had rights over staying longer or had to be evicted, we have someone wishing to stay for 2-3 months, is that advisableregardsJulie
---
Our Response:
They don't have any rights to stay longer than you want them to if they're on a paid B&B basis.
StartABedAndBreakfast
- 20-Apr-16 @ 12:17 PM
i run a b and b as i was wondering how long a person would be able to stay before they had rights over staying longer or had to be evicted, we have someone wishing to stay for 2-3 months, is that advisable regards Julie
Julie
- 18-Apr-16 @ 4:50 PM
Hi, I own a residential property (through Nationwide) which has 6 rooms, we have lived in in for 3 months now.Our neighbours have a bed and breakfast and my wife would love to do the same with 4 of the rooms.I contacted Stratford Town planning and they said we would have to apply for change of use (they think this won't be a problem) but I contacted Nationwide and they said they don't do commercial mortgages.When I checked out commercial mortgages some lenders require 30% and higher.Does this mean we can't do it?We have no additional funds for a larger deposit. Kind regards, Adrian
Cookie
- 17-Nov-15 @ 1:59 PM
Hi, I am not English, wish to buy a small B&B in Torquay. My question is, can I buy a freehold bb and run by ourselves? Thank you very much indeed.
Sading
- 2-Oct-15 @ 10:57 AM
Hi there! We booked a b&b 3months ago for this coming Saturday to attend a wedding. My partner was in the bridal party and I just attending the evening (with both of us coming from opposite sides of the country) so 2days ago I contacted the b&b to arrange myself doing the checking in for us but she was adamant we both had to be present to do so which was just not possible. Now i understand everyone can run their business how they like but nowhere on any of the bookings terms and conditions was this stipulated otherwise I never would have booked it. It has resulted in having to cancel the booking because of this but I'm just wondering if i have anywhere to stand on getting the money paid refunded as she is refusing due to it being so close to the date...again ifI had of been made aware of these terms earlier i would have cancelled within the 14days refund period. Many thanks for any advice!
kiwimash
- 31-Jul-15 @ 8:34 AM
@Glenn. There are no set licences needed for B&B owners - but you'll need to think about various types of insurance (including Public Liability), planning permission, food hygience certificates etc.
StartABedAndBreakfast
- 28-Apr-15 @ 12:02 PM
Hi, We are looking at running a B&B in the next year or two in Scotland; probably Perthshire, Argyll or Aberdeenshire. We are currently in Australia but my wife is a British Citizen and my Father's side is as well. I understand we need to look into the local provisions and policies of each local government area but was wondering if there are any licences required through the Scottish or central government? regards Glenn
Glenn
- 23-Apr-15 @ 4:05 AM
@Stally. You should ask someone from Dover's planning department for the local regulations. These differ from place to place, but the average we have come across are two spaces per dwelling plus one space per bedroom used for B&B. There is also usually a stipulation that all spaces are provided off road and/or within the curtilage of the dwelling. There may be a requirement for more spaces if you are to include a bistro.
StartABedAndBreakfast
- 18-Mar-15 @ 10:58 AM
Hi, I am at present going through the planning application for a Bistro with B & B. I have a problem with parking, although I think this can be resolved. But can anyone tell me how many parking spaces I would require for 3 bedrooms, although to start I will possibly only want to rent out 2. I have been told it's 1 car per 10 beds ? This seems wrong - anybody have an answer for this. I am near Dover in village. Regards, Mark.
Stally
- 15-Mar-15 @ 4:48 PM
@robbaylis. If there was nowhere that said you should have booked for breakfast in advance, you shouldn't reasonably have expected to know that. While hotels do not automatically include breakfast in a room rate, it's generally accepted that Bed&Breakfast is just that...bed and breakfast. You would not normally have to book breakfast in advance, but that is just opinion, there is no legislation to back that up apart from possibly the Trade Descriptions Act. Under The Trade Descriptions Act 1968 (when undertaking your marketing activities) you must provide accurate descriptions of your hotel facilities that is a true and fair reflection and is not misleading in any way. The need to book breakfast in advance should have been publicised in an easy to spot place or at the time of checking in.
StartABedAndBreakfast
- 30-Jul-14 @ 2:21 PM
Hi, I stayed in a B & B last night and was refused breakfast in the morning. I went into the dining area at the specified time and was told I should have told them I wanted breakfast the previous night. When we arrived the landlady said breakfast is served between 9 am and 1030 am but did not say we had to pre book it. Is this allowed? I would like to seek legal advice and im not sure where to go from here. I am very unhappy that I paid for services which were then refused to me for no apparent reason. Thanks Rob Baylis
robbaylis
- 29-Jul-14 @ 10:16 PM
Very informative read thank you
MichaelR
- 30-Jul-12 @ 5:15 PM