Communal Rooms in Your B&B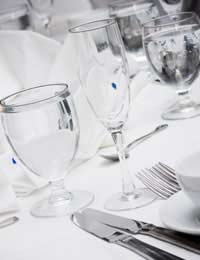 Most bed and breakfast establishments will have at least two guest rooms apart from the bedrooms, a dining room and a lounge, and although most B&B guests will be groups of tourists, there might be extra money to be made from having meeting rooms too, if you have the space.
As well as the all-important dining or breakfast room, you should have a lounge and perhaps a conservatory too so that different groups of tourists can get together and review their day in peace, and perhaps plan the next one. Keep decoration plain and simple and don't be tempted to clutter up the rooms too much.
Dining Rooms are Key in a B&B
Dining rooms are important as it's the 'breakfast' part of the B&B that people often remember, and it's even more important if you do evening meals too. If possible, when you're converting the property into a B&B, have a separate guest entrance to the one where you will be coming through from the kitchen with plates of hot food.
Coordinated Furniture for Meeting Room Use
As far as furniture goes, it's worth getting chairs and tables that match, and replace them when they look old and tired rather than waiting for them to break. Apart from the fact that it will look better, if you decide to make extra money by hiring out your dining room to local businesses during the day, when it's unused, having all the chairs identical will make it look a lot more professional.
An exception to this is if the furniture is antique but in good condition and of a similar style. This can be very effective in creating a quality rustic dining room feel but probably wouldn't work so well in the meeting room configuration. Pay careful attention to the groups of chairs and tables so that everyone has enough elbow room and waiting staff can thread their way through easily.
Use a Sideboard for Serving Tourists
A sideboard or other flat surface at waist height is invaluable in a B&B dining room. It can serve as a breakfast bar and a temporary holding point for hot fresh meals as they are brought into the dining room, so that you can place them all down safely then pass them out to the relevant diners.
You can also swiftly remove dirty plates and cutlery from tables and place them on the sideboard while attending to guests' needs. Make sure the groups of dirty crockery are taken back into the kitchen as soon as you have a free hand though.
Give Groups of Tourists Lounges to Relax in
Living rooms or lounges are important guest rooms in a B&B too. Tourists will like having a place where they can sit and read, or perhaps watch television, without feeling that they are in your way. For this reason, it must be a separate lounge to your own living room.
You need a range of seating as some people prefer firm, more upright chairs and others soft sofas to lounge in. There should be some single chairs as well as sofas, tables to put books and drinks on, and don't get annoyed if tourists re-arrange the groups of furniture to suit their needs.
Books, Magazines and Pastimes for the Guest Rooms
As well as a range of comfortable seating, there should be a library of popular books, and perhaps some classic board games for families, on shelves or in cupboards. You could consider having some in the dining room too, if the layout allows. It's a good idea to have local and regional magazines, as well as some general interest ones, but if you leave magazines on tables in the lounge, make sure they are current ones.
If you do think people might be interested in previous month's issues, keep them neatly bound in a folder on the bookshelves, not out on the tables. This will have the advantage of making it quicker to clear the room if you are renting it out as a meeting room for groups to use too.
You might also like...