Creating a Theme For Your B & B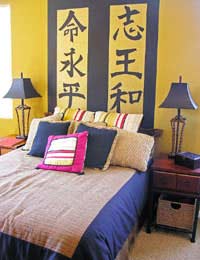 Creating a theme for your bed and breakfast business can be a dangerous idea, only because you may go too far and alienate people. So if you have a high number of repeat visitors and referrals it might be an idea to introduce the theme slowly and take soundings from people in the early days before taking it to the next stage.
B&B Themes with Colours
Having said that, a theme can be very subtle, at it's mildest it can be a colour theme that runs through the home decor of the establishment. This is just basic good sense really; no B&B is going to look its best if all the rooms are painted different colours in a completely random way. But you can pick different colours and match the tones so that the colours complement each other.
Another simple colour scheme that can tie different rooms together is to have the rooms and corridors painted in the same colours but in slight shade variations so that each room is a little lighter or darker than the ones next to it. This is a tricky concept to get right though and perhaps the services of an interior decorator or interior designer should be sought.
Using Furniture and Furnishings to Theme a B&B
Themes are easier to achieve by playing with furniture and soft furnishings as there's less uncertainty about how they will look when you get them home, like there is with paint. A fairly common idea is to theme each bedroom after a foreign style, so you might have the Spanish room, the French room, and so on.
It's perhaps safer to theme rooms on an individual basis like this. If you theme a whole bed and breakfast, including the lounges and reception rooms, on a certain style, say Moroccan, or perhaps a certain time period, like Elizabethan or Tudor, then you'll be restricting yourself to a niche market. That might work if there is a big attraction nearby that brings a lot of visitors and fits with the theme, a large Elizabethan manor for example. But if not, it's more likely to only attract history buffs.
Take Care with Bed and Breakfast Themes
It's best not to go overboard with themes as it is more likely to put people off, unless they happen to have the same home decor. Remember that with a bed and breakfast it is a mistake to decorate for yourselves, you must decorate for the guests, and unfortunately that usually means keeping it bland. Put your stamp on the place by all means but do it in ways that aren't too outlandish.
If you are determined to go for a full-blown theme throughout, if it's been a dream ever since you could remember, then go for it but make sure you market it hard in places where people who might be interested will see it. So if it's a medieval castle theme, get into all the history magazines, if it's Star Trek then plaster the fan websites with links to yours.
If you do go for something like this, you'll probably find that most of your customers love it, because they would have viewed it on your website before booking. There just may not be too many of them, that's all.
You might also like...