Create a Working or Commercial Kitchen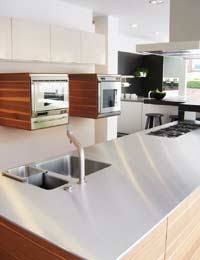 Bed and breakfast kitchens vary tremendously in size and standard but if you get the chance to plan and design one, take into account food hygiene standards and the environmental health issues that come with the responsibility of having a commercial kitchen. If your B&B is no more than a large house, then it won't have come equipped with the same equipment that you'd get with commercial premises but there is a lot you can do that will help you attain and keep your food hygiene certificate.
Look Through the Eyes of an Environmental Health Inspector
Making the kitchen work as well as those in commercial premises involves a bit of a mind shift. You have to try and see your kitchen through the eyes of a food hygiene inspector, a fire safety officer and a trained chef. Environmental health regulations have been getting tighter all the time, with recent uproar over the banning of dogs and other animals from kitchens.
Fairly sensible, you might think? Doesn't really make sense to have animals wandering around in the same place as food is being prepared? The problem arises more with farmhouse B&B's where animals may well wander in and out and in the past the owners have been trusted to keep them away from the food preparation areas. It gets even harder when there's an open plan kitchen dining room, possibly even encompassing the lounge space as well.
Red Tape of Food Hygiene
Many B&B owners are getting fed up with the increasing amount of red tape and in the past, kitchen regulations were different for smaller B&B's than for larger ones, those that are more like commercial premises, but that distinction is no more. At least if you are starting out now you can design a kitchen that will comply with the latest regulations.
In the basic planning for a new kitchen, try and construct an entrance to the dining room that is separate from the one that guests use to come in and out of. This will minimise accidents with hot food being carried through.
The kitchens design should use easy to clean materials. For example, tiles would be frowned upon as a worktop surface as dirt would be caught in the cracks between the tiles. So a one-piece smooth worktop will get you a step further towards a food hygiene certificate.
Kitchen Planning and Design
Kitchen planning should include fridges, freezers, dishwashers and cookers, and in some cases they could be larger than the norm, to allow you to cook and store enough food for all your guests at once. You will also need fire blankets and the correct type of extinguisher as well as signage to make sure they can be found and used quickly and safely.
Pay attention to ventilation in the kitchen design as well. Extractor hoods venting to the outside are best if that's possible, and perhaps a separate extractor fan. The local authority health inspectors will advise on this and many other aspects of your kitchen's suitability for a food hygiene certificate.
Waste Not, Want Not
Finally, don't forget about the waste. You will need to make provisions for different types of food waste if you start to generate quite a lot of it, but even if you don't consider buying some waste bins designed for use in commercial premises. They will have larger capacity and better fitting lids to keep everything contained.
You might also like...
My husband and I are interested in starting a bed and breakfast. We would like to start small scale we think initially. we live in Surrey and ideally would like to move to Bexhill. Our money is tied up in our current property. We have no idea where to start!! eg. permission first,property first,financial advisor or bank?? Please could someone point us in the first right direction. Thank you
Cupcake
- 9-Jan-16 @ 7:21 PM