Designing Your B & B Conversion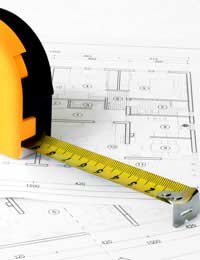 Assuming you have a building that lends itself to conversion into a viable bed and breakfast, a great deal of thought and planning needs to be put into the building design necessary to turn the house into a viable property for commercial use. It's difficult to give hard and fast guidelines as every property and situation will be unique, but there are some general principles that should help.
Include Personal Space in a Bed and Breakfast
One key thing you will need to bear in mind while designing the conversion of the building is that you need to separate the family areas from the guest areas. So allow for enough bedrooms for your family, along with at least one bathroom that guests will not use, a separate lounge and if possible a room to be used as an office.
It will benefit both your family and the guests if the private area is closed off behind doors. Then behind those doors you can do your own thing without accidentally meeting a guest in a corridor, and the guests know where they stand too.
Consider Using Professionals for B&B Building Design
If you've done your assessment of the property and your sums show that conversion for bed and breakfast use is worthwhile (see our separate article on financial viability to help with this one) then you will have an idea of the number of guest bedrooms you need. You will also have decided whether or not to go with en suite bathrooms throughout.
Unless you have very clear ideas about how the building conversion should be done, you should take these functional specifications to an architect and ask for their advice. Even if you are confident of your own building design skills, an architect may well come up with ideas that you might not have thought of, because of their experience. They are also likely to achieve the best use of space and know whether the local planners will accept your ideas or not.
Don't Forget Communal Rooms in Your Building Conversion
The communal areas, usually just a lounge and dining room, need to be of an adequate size to accommodate all the guests when the bed and breakfast is full. The dining room should allow safe passage between the tables while all the diners are seated. It should also preferably have two entrances; one to the kitchen which you will use and another for guests to enter and exit. This will minimise accidents with hot food and dirty crockery being taken in and out of the kitchen while guests are up and about.
The lounge should be large enough for groups of guests to sit with each other in distinct groups. This will then give them a feeling of having their own space but being able to socialise with other guests if they want to. Consider making the room with the best view the lounge, the dining room is less important in this regard.
Planners Have to Approve Building Design Before Commercial Use
Once the plans are drawn up and everyone is clear what needs to be done, it's time to visit the local authority's planning office. They will need to approve the building design and it's acceptability for commercial use. They would also much rather talk it through with you first than go through expensive and time-consuming process of litigation if your building conversion falls foul of their rules after it has been built.
You might also like...