Handling B&B Guest Complaints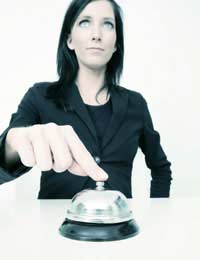 No matter how well you run your B&B and how much you put into setting up the visit of each guest, it's inevitable that at some point or other you will have to deal with a complaint or a problem. You must, of course, do your best to make sure that they don't happen, but the reality is that they will and being prepared to deal with them beforehand will help you out no end.
Using Psychology to Defuse Customer Complaints
How you deal with complaints and problems can make the difference between people coming back and referring your B&B to other people, and losing their business for ever. Dealing with people's problems can be tricky and although we don't have the space to give you a degree in psychology here, we can certainly give you a few hints and tips that will help smooth over troubled waters.
The overall concept of dealing with complaints and problems that customers bring to you is not to get in to an argument, but to identify exactly what the problem or complaint is and what can be done about it. Where the psychology comes in is to keep your emotions in check and go through a process instead.
Listen to Guests
The first and most important thing to do is to listen to the customer. No matter how they carry on, it is essential that they come to realise that you are listening to them. If they are agitated, let them blow off steam and wait for it to run out.
This can be difficult, particularly if they start getting personal, but bite your tongue and don't dive in just to get your tuppence worth in. This can be difficult, understandably, but you need to let the customer have their say.
Agree the Complaint with the Customer
Then make sure that you understand what the complaint is about, or what the problem is. Keep your voice calm and low and ask questions to make sure that you are right.
Phrases such as "just to make sure, you think that etc. etc. " will start a dialogue rather than continue an argument. Once you are certain that you are clear about the nature of their grievance it's time to move on to the next stage, the apology.
Say Sorry
Apologise if you think that the problem warrants an apology and don't try to shift the blame. Phrases like "I'm sorry, that should not have happened," and "you are completely justified in feeling let down" will establish the fact that you accept that the problem is yours to deal with and accept that they are aggrieved.
Trying to shift the blame is more likely to inflame the discussion. You have to remember that although you might have been let down, perhaps by a member of staff or a supplier, they are buying the services of the B&B from the owner and that's who they will consider is responsible.
Agree Solutions with Guests
Once you are both agreed on the nature of the complaint, propose solutions and let the customer choose the one that is most appropriate. If the complaint is one that can't be put right, perhaps because the moment has gone, then you may be in the realms of compensation.
Try not to offer this too early in the discussions but if it becomes clear that this is what the customer wants, then you may well have to give it to them, unless you feel that the complaint is unjustified.
Keep the Customer Satisfied
Throughout the whole process, you will have to swallow some potentially very strong emotions, particularly during a complaint from an overheated customer. But remember at all times that their preferred outcome is a solution and yours is for them to feel that you have listened, accepted the problem and resolved it.
The end game as far as you are concerned is that they go away happy and spread the word about your fabulous B&B, no matter how much you'd prefer to give them a real mouthful.
You might also like...
Dont ever go tobruntonhouseScarboroughit is filthy the toiletwasn'tflushedthere eas dust everywhere the duvet was dirty and not changed the bathroomdoor wouldn't shutthe handle on the door to our roo. Was losejust hivr it a miss
ash
- 16-Sep-20 @ 9:57 AM
To who it may concern My name is Tim Branson I want to make a complaint about a Guest house I have booked into in Bolton the Highgrove Guest house . The owner asked on Booking for my card Details to hold the room which I do not mind I am booked in on the 25th of September I did not get confirmation via Email I Rang to Enquire she said I will receive it on the evening of the 24th of August still have not received it and the owner has my card Details My number is 01234 304570 I hope I contacted the right company Tim Branson
Timbo
- 26-Aug-20 @ 8:05 AM
My partner has been to Blackburn and went to a bnb called the Blakewater Hotel where he was charged £60 for the nightThe room was damp, there's no cistern or flush on the toilet, the shower doesn't work there were stains and lipstick on the bed and plaster falling off the wall He went down to complain with me on the phone and asked for his money back He has not signed anything but got a receipt The manager gave him £15 refund refusing the rest of his money as he'd been there five hoursI have photos btwLuckily my partner escaped before the brothers turned up to beat him up thank God This place is filthy and noisy as it's next to a youth area and should be visited by the hotel/health inspector and closed down Please can my partner,considering the state of the room he was in, get a full refund for this truly awful situation?
Janiemay
- 28-Jul-18 @ 7:35 PM