Housekeeping at Your B&B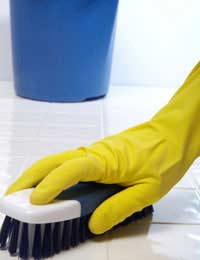 A bed and breakfast lives or dies by its housekeeping; there cannot be a more important aspect of the business than keeping the guest rooms absolutely spotless. It doesn't matter how good your room rates are at your B&B or how tightly you control your business costs. If a guest sees dirt then your reputation can be ruined for a long time.
Housekeeping Checklists for Guest Rooms
It's essential to develop check lists for everything that needs to be done and not just the hovering and changing the sheets. Has the basin plughole been scrubbed with an old toothbrush? Is every surface dusted every day? These things and everything else should be on a checklist and you or your staff should tick them off every day.
It's not just the cleaning that should be covered. Windows should be opened to air the room for at least an hour after guests have departed for the day. Used toiletries, cups or glasses and tea and coffee making supplies should be replaced too.
Always make sure there are enough supplies for more than one cup of tea or coffee for each person. Many guests like a drink when they come back in the evening or afternoon as well as one in the morning and it's amazing how many hotels and B&Bs make this impossible, regardless of how high or low their room rates are.
Protect Your Standards
To reduce business costs you should consider laminating these checklists so that they can be ticked with a felt tip pen and then wiped clean at the end of the day. If you have staff doing the housekeeping at your B&B then this can be used as a control mechanism too. If a chambermaid has ticked something off that patently hasn't been done you can use it to build a case to let that person go if you feel they are not doing the job properly.
After all, if your guest numbers at your B&B start dwindling and you put the room rates up to compensate, you could be on the slippery slope to losing the business. So don't be squeamish about controlling ineffective staff, you're the ones who will pay the higher price, not them.
Be Prepared and Control Business Costs
Housekeeping isn't just about cleaning though, it's about being prepared for any eventuality too. It's wise to have a large store cupboard for all the essentials that you need; spare toilet rolls, cleaning products, mops and dusters and all the rest. In order to control business costs you should decide correct stock levels so that you never run out of everything, but don't waste too much money on stocks that it will take an age to get rid of.
When buying things for the guest rooms in your B&B, don't skimp, but don't waste money either. Think about what your room rates say about your business. If you are more expensive than your immediate competition then the toiletries and cleanliness in the guest rooms should be of a higher standard too.
Kerb Appeal Counts For a B&B
Finally, don't neglect the outside of your B&B either, as kerb appeal is very important. Not only do you want passing trade to see a clean establishment, which is more likely to convert them into paying guests, but your current guests will enjoy coming up a freshly swept path through a well-kempt garden.
Wipe down the door and porch, particularly if it's been a wet and windy day. Sweep the path and be vigilant against weeds and keep the borders tidy too. All this says that you care about the B&B which tells guests you will care about them too. This can do more for repeat business than tinkering with your room rate or business costs.
You might also like...
Apple - Your Question:
Can you tell me please how many bedrooms or people I am allowed in before I need a certificate of lawfulness
---
Our Response:
Check with your local authority. Some specify a number of bedrooms as a proportion of the bedrooms in your property. Some use the 6 bed rule, where you need consent if you are providing B&B for more than 6 guests at a time.
StartABedAndBreakfast
- 30-Jun-17 @ 11:26 AM
Can you tell me please how many bedrooms or people i am allowed in before i need a certificate of lawfulness
Apple
- 29-Jun-17 @ 11:08 AM