The Specialist Outdoor Pursuits B&B: A Case Study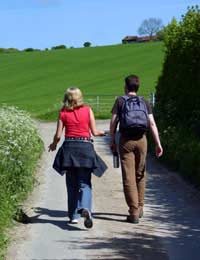 Developing their B&B into a specialist outdoor pursuit destination proved successful for John and Miriam Knowles, who until recently ran their establishment in Scotland. They are now retired, having sold the B&B on to a younger couple who are hoping to build on the Knowles' foundations.
Outdoor Pursuit: An Opportunity to Specialise
"We took it over twenty years ago from the previous owners, who weren't able to make it particularly successful," said John. "It's not that it was in the doldrums," Miriam added, "but they were virtually empty in the winter apart from Christmas and the New Year and we thought that represented a lost opportunity."
The B&B was sited not far from the winter sports areas in Scotland, but not close enough to the actual ski-slopes to be sold as a straight skiing destination. So the Knowles looked at the other attractions of the area during the winter months.
Trips to the Ski Slopes
"Wildlife came up trumps," said John, "and as we're not often snowbound for particularly long, there's good walking and rock-climbing to be had. We also came to an arrangement with a local mini-bus driver to give us a deal on trips to the ski slopes so that we could at least offer skiing as a day trip option."
"That seemed to work as well as it could," said Miriam, "we found that people coming for the weekend or three days wouldn't bother with skiing but those staying for a week would often take it up as one of a number of day trips. The drive took about forty-five minutes, which isn't so bad if you're going for a whole day, and guests appreciated being driven back at the end of a full day's skiing, I can tell you!"
Accommodating the Change
The couple did a lot of work informing customers about the attractions in terms of outdoor pursuits. "We produced lots of laminated cards with all the relevant information and left them in the dining room and the lounge. A lot never came back so we ended up buying our own laminator to lower the cost. You have to see that sort of thing as a cost of making the customer happy."
How much work did they do to the house to accommodate all these outdoor activities? "Not a lot really," said John, "we reconfigured the rooms to be able to offer flexible accommodation for families, but we probably would have done that anyway."
"The only real change we made for the outdoor stuff was when we extended the kitchen and dining room after five years. We added a new room at the same time to the left of the back door so that customers could take their wet and muddy shoes and trousers off then come into the house through a linking door. We put lots of racks and rails in and a couple of radiators so that all the gear would dry out overnight.
Becoming a Specialist Pays Off
Was it all worth it?
"Yes, definitely," they both agreed. John said "although it really started to pay off when we put our first website up in 1996. It meant that people could find us without us having to know their name and address. Before that we could really only send out brochures or leaflets to people who had already visited."
Miriam went on: "When we arrived we would have about a dozen guests from September to mid-December and about the same from mid-January to Easter. For the last ten years we averaged three-quarters full all the way round from the end of the summer holidays to Easter, so becoming a specialist had a dramatic effect on our revenues."
You might also like...
Zoe - Your Question:
HiCan you give an idea in how much a new website might cost to build, including calendar and booking/payment facilities?ThanksZoe
---
Our Response:
The easiest way to find out would be to do an Internet search and check the various companies offering this service.
StartABedAndBreakfast
- 26-Apr-17 @ 12:44 PM
Hi Are there any U.K. conferences or trade shows that cover our market? Where you can meet suppliers etc. Zoe
Zoe
- 25-Apr-17 @ 10:12 AM
Hi Can you give an idea in how much a new website might cost to build, including calendar and booking/payment facilities? Thanks Zoe
Zoe
- 25-Apr-17 @ 10:10 AM