The B&B That Failed: A Case Study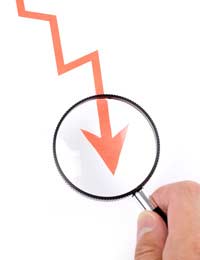 We often hear about people who think that owning a B&B is a great idea and that they could run one to make money and have a better quality of life. However, it is not always as easy as that and to run any successful business requires focus and effort, even if it is not the only enterprise that the people are running.
The Story of the B&B That Failed
We will take a look, in this case study, at a B&B with a cafe that only lasted eighteen months, apparently because of that very lack of focus. The word 'apparently' is used because the owners couldn't be identified and located to be interviewed, and probably wouldn't want to be, even if they had been found.
The story is therefore told through the experiences of neighbouring businesses in the town.
Bright Start
When the B&B opened it was advertised as a cafe with accommodation. The interior and exterior were both redone in a traditional style but with contemporary colours and looked very attractive. However, people who went in during the day to use the café facilities were often greeted by an empty room with no one serving, so they would go away again and not return.
Whether this level of service extended to the B&B service from the start isn't known, but there is one story told by a cyclist shortly before the business was closed. He was on a round robin tour of the area, staying in a series of B&B's and small hotels in the area that had been booked for him as part of a package.
The Cyclist's Story
He had been booked in at this particular B& B and had been told that he had to turn up at a certain time. The cyclist was an hour or so late and when he got to the B&B he was unable to get in. Through a neighbouring business, another cafe, he was able to contact the owners and explain the situation.
But they refused to open up to receive him and he had to stay at another B&B in the town, at his own expense, which fortunately had a room for the night. Reading any of the articles on this site will demonstrate that repeat business and reputation are of paramount importance to the success of a B&B business.
Assessing the Viability of the Area
Although the B&B was located in a market town on the edge of a tourist region and Area of Outstanding Natural Beauty (AONB) in the United Kingdom, it is more of a working town rather than a tourist location.
One hotel in the town had closed and been converted to flats in recent years and there are only a few other B&B establishments, so although there is a demand for accommodation in the town there may not have been enough to sustain one more B&B.
Focus Waning
As we said at the beginning, we had been unable to speak to the people running the business, so almost anything could have happened to take focus away from it. It was clear that the owners weren't on site and perhaps they had had to give that up for family reasons, for example.
But it does indicate that a lack of focus in failing to appreciate either the size of the market or the amount of effort required to build up and sustain the business had contributed to its failure.
You might also like...