Assessing and Dealing with your Business Competition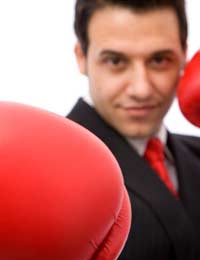 The first part of tackling the competition in the B&B market, as with any business, is to know all about them, that's the assessing part. The second is dealing with the competitors that you find and of course this will be done in the spirit of open competition, not dirty tricks.
You need to assess competition in different areas: your local market, the niches you might be operating in and then the regional market you are competing on behalf of.
Assessing the Local B&B Market
The local market is the easiest to assess. At its simplest this can be walking the streets at night in your busiest period and noting which B&B's have the vacancy signs still up, and who is full, particularly if you are not fully occupied yourself. This will tell you which of your competitors are doing it right and which are doing it wrong.
Then look at their marketing and advertising collateral, their websites and see if you can find out if they are tapping into any other markets. Look at the features that they stress in their collateral and assess them against your own. Do you come up to scratch in these areas and if you don't, is it something that you consider you should improve upon so that you can be a stronger competitor?
Empty coaches or minibuses parked up nearby, or even in their grounds, might give clues to deals they may have done. Look at the hire company on the side and find out where they have come from, then do what they are doing but do it better.
Assessing Niche Competition
With niche markets it depends whether the competition is local to you or not. You need to be assessing whether your local competition is covering the same niche at all, for example article encouraging pets or families. If they aren't then there are two possibilities.
Either there's too much hassle and not enough profit in it, or no-one's thought of it yet. Nosing around in your local business networking groups might provide some insight as to whether anyone's tried your particular idea before, but be discrete to avoid giving the game away.
Collaborating With Competition
If you are competing in a particular sporting niche, say surfing, then there will be local competition but also competition from other areas where there's decent surf. So the ideas outlined so far will work for competing locally, but for other regions you will have to work more tactically.
You may need to indulge in some skulduggery here, booking yourself into B&B's that are operating in the same niche but in competing regions. You can assess what they are doing both locally and to promote their region and assess whether or not it might work, or there might be counter-attack you can make to give you and your region a better competitive advantage in that niche.
Dealing with Competitors Can Be a Delicate Balancing Act
In addition to this you also need to act tactically, dealing together with your local competition to pool money and resources to attract people to your area rather than other competing regions. This can be coordinated through local and regional tourist associations and associations dealing with your particular niche. It can also encompass encouraging regional and national press coverage for the area and events that are going on.
Assessing and dealing with competition requires a hard-nosed business attitude but doesn't necessarily mean being a mean person. Remember that your local competitors will help you out when you need it and will expect help in return, and you need to put effort into competing as a group of B&B's as well as competing at an individual level. So be helpful and cooperative but keep a respectful distance.
You might also like...