Business Framework for Operating a B & B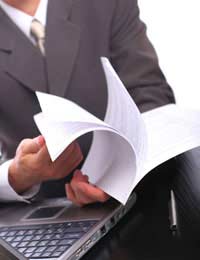 Once you have decided that you're serious about starting a bed and breakfast business one of the first things you need to do is decide what business framework you should run it under. There are basically four framework options and here we can go through some of their implications, the administration and management overheads. But it is essential to get appropriate legal and financial advice and perhaps seek out the help of a business advisor before making the choice.
Many of the impacts are financial, others might affect your family or what might happen to the property you are running the business from. Every person's situation is different, so you need to discuss this openly with someone who understands the implications of the choice and who you trust, as they will need to know your financial position too. It's vital to get appropriate advice for your specific position.
Sole Trader for Low Administration Levels
Running the business as a sole trader is perhaps the simplest framework and results in the least administration overhead. There aren't as many options for tax breaks as with other legal structures, but then unless you are thinking of building up a B&B empire with many establishments then that may not concern you.
You should look at your financial risk position though. If you have borrowed heavily to finance the business, then it collapses, you are personally liable for any debts and your personal possessions and property can be seized to pay off debts if you go into administration.
Partnership - a Potential Management Headache?
A partnership is a common framework where groups of two or more people own a share of the business, not necessarily an equal share though. This helps if you want to bring other people's money into the business, and also means that the liability is shared too. It does add an administration burden, because there are more people involved so decisions need to be agreed and recorded, minutes of meetings taken and that sort of thing.
Partnerships often founder on disagreements over whether or not the work done by each person amounts to the same as their proportional ownership of the business. The more time that you spend ironing this out at the beginning, when the management of the company will be agreed in a partnership document, the more likely this framework is to succeed. A lawyer will be required to draw up this document.
Limited Company Framework
Setting up a company, possibly a PLC but more usually a Limited Company, is usually done to separate the possessions and finances of the business from that of the owners. This 'limits' the liability (hence the phrase 'Limited Company') to the assets and funds of the company and protects the owners' personal property and possessions should the company go into administration over debts.
This protection is not complete though and in some circumstances directors' assets can still be seized, so it's not carte blanche to go mad with the company's money. With this framework the administration levels are slightly higher and there's more management required, but there are some tax advantages. Those advantages are being eroded every year though, so it's important to get up-to-date financial advice.
Trusts for Administration on Behalf of Others
You can also run a B&B under a trust framework but this is unusual, and really only used when family circumstances dictate that the business has to be run on behalf of someone else. A financial advisor and a lawyer, both with previous trust experience, should be consulted if you think this is a possible option.
You might also like...
@Lcfm. If the house will be used by staff (as part of the letting business) or by guests of the business then you will probably have to install them.You should ask at your local Building Control department for clarification.
StartABedAndBreakfast
- 6-May-15 @ 2:07 PM
We are in the process of buying a house with land to build three lets. We have pre-planning consent for the lets and are about to apply for full planning. We would use the existing utility room in the main house to serve breakfast. We need to replace the ceiling joists and take out existing kitchen units. There is already a toilet off the utility room. The house is Grade II so we know we will have to apply for planning permission to carry out work and I am assuming register as a change of use for that room but are we bound by legislation to fit fire proof doors, emergency lighting etc in the main house as per the laws for B&Bs? Thanks
Icfm
- 29-Apr-15 @ 7:33 PM