Day to Day B & B Management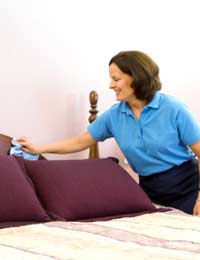 Keeping on top of a bed and breakfast shouldn't be that difficult, that's why a lot of people choose it as a vocation. But just like any other small business, there's administration to be taken care of and if things are allowed to pile or problems aren't noticed and resolved, then it will start to cause problems.
Management of Bookings and Finance
One of the best ways to approach everyday management is to break it down into regular tasks, keep weekly, monthly and annual checklists, and tick them off. Booking systems are covered in a separate article in this section so we'll be looking at the other areas where you need to make sure your management processes are up to scratch.
Financial management is a very obvious one and is critical for any small business. The main thing is to make sure that everyday money coming in or going out is recorded on a spreadsheet or manual ledger. Also any piece of paper that accompanies that transaction, such as an invoice or receipt, is filed away. Again, this is covered in more detail in a separate article in this section.
Policies and Management
Cleaning and preparing rooms for new guests is another good example. Obviously you should clean rooms daily, but you need to decide a policy on things like sheets and towels, do you change them only when a guest leaves, or after a set period of time? In which case, how long is that period? If you have a guest staying for two weeks, they'll probably not be too happy if they have the same sheets all the time, but it's not practical or eco-friendly to replace the sheets every day.
Whatever you decide, make sure that the policy is clearly communicated to guests, either verbally when they arrive or in a booklet in the room, but it's suggested that you offer more frequent changes if the customers prefer that. You may not like it but keeping customers happy is critical. Make sure all your family and staff are aware of the policy too, because guests who get different answers from different people will begin to think you can't manage the business properly.
Check Rooms and Fittings Regularly
Everyday management involves checking to see that things have been done properly too. You should probably inspect each room and bathroom on a weekly basis at least, to make sure it's being cleaned properly and there's nothing that needs replacing. Ask guests if everything is to their satisfaction, but be careful not to over do this as it can be seen as obsequious, or guests may suspect there's something wrong that they haven't yet spotted.
In the dining room, don't just stick the same old pots of condiments out day after day. Make sure that everything is actually full and working. There's nothing more off-putting than a silted up salt or pepper pot, and when people see that the little things aren't being managed, they begin to wonder about more important things too.
Why Everyday Management is Important
This may all sound as though it's a lot of hard work for not very much reward. But you need to remember that you are running a business and a bed and breakfast relies on its reputation. Of course, if the paperwork and management gets to such a level that guests are being neglected, then the balance has gone too far the wrong way. But guests will remember and recommend a well managed bed and breakfast so put some time and thought into it and stay on top of the checks and it will reap dividends in the long run.
You might also like...
Hi, Seriously considering a B&B business with my hubby.I have previous hotel experience as well as sales and am also a qualified nurse. No idea where to start. We would consider managing/running a B&B for a few years on behalf of someone else if that's what it takes but need advice about this. Also no idea about existing business or new business. Help please ????
linzi
- 24-Jul-16 @ 8:04 PM