Does the Owner Have to Live in Their B&B?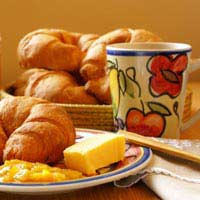 The traditional B&B tends to have a live-in landlord or landlady, sometimes a couple, who have opened up their house to paying guests. Typically it is a private home with fewer than ten bedrooms available for commercial use. The owner does everything from preparing the breakfast to cleaning the rooms.
But the B&B is changing. Flowery wallpaper is being stripped down and contemporary décor installed instead. Continental breakfasts are served side by side with the full English, sometimes as a replacement. So, in these modern times, do you have to live in your B&B?
What Do Your Visitors Want?
Visitors choose to stay in a B&B because they don't like the impersonal feel of a hotel. A hotel has staff that rotate shifts and don't get to know their customers as a B&B owner does. Guests like the contact with a live-in owner, someone who is there for them at all hours of the day and who is always ready to answer questions or help with problems. Guests know they can rely on someone who owns and looks after their own property and are reassured when they see the owner going about his daily tasks.
Some seasoned B&B visitors like the traditional aspect of their choice of holiday accommodation. It depends who you are marketing yourself to. If you want to appeal to the older generation then they will expect you to live in your B&B and give the attentive service that they are used to. They will feel reassured by your presence.
Look at the Advantages
There are advantages for the owner too. There is no daily commute and you are on site to make sure everything is to your liking. If a problem occurs, you are there to solve it. The owner knows his own house and if a guest has a quibble about the establishment, he knows how to deal with it. You don't risk a late night call out from a guest with an emergency; if anything urgent crops up, you are there immediately.
Consider Alternatives
But there is no actual law stating you have to live in your B&B. You can own and run one and live off the premises. You can even hire staff. It all comes down to personal preference.
As B&Bs move with the times, younger guests tend to be more independent and enjoy the more relaxed atmosphere of a B&B with all the mod-cons of a hotel. Many B&B owners make sure that visitors don't spend the day on the premises so as long as you are there in the morning and the evening, there is no reason to stay on the premises at night or throughout the day.
Downsides of Living On-Site
You might not like having to transform your living space when you live in your B&B. Depending on how big your house is and how many rooms you have turned into guest bedrooms, your own living area may be small. You might even share your breakfast space or dining space with your customers. You will certainly have to keep all communal areas spick and span at all times.
When you don't live in your B&B, your space is obviously your own. You or your staff have to keep the B&B spotlessly clean, but you can live how you like. You might find this an easier option if you have a family or pets.
Some owners have more than one B&B and run them much more as businesses with staff or managers in their place. You have to decide whether you can afford to hire staff and if you can, you need to be sure they will do just as good a job in your place.
In the End, it's your Choice
It all depends on what kind of B&B you want to run. If you are a hands on person who likes to know your guests are being well cared for, you might prefer to live in. On the other hand you might want a bit of breathing space and a life outside your B&B, which you can get only if you have your own accommodation.
You might also like...
I wood like 2 live in a bed & breakfast
Shorty
- 18-Nov-23 @ 9:15 PM
I am just about to apply for planning to C1. Is there a legal amount of days I have to be open each year?
DarrenBrown
- 4-Sep-21 @ 7:54 PM
Looking for a b&b to manage or a home to rent to run my own b&b
Naj
- 21-Jul-20 @ 3:16 PM
I have bought a 10 bed hotel is there a requirement to have someone reside over night as a manager
Evs
- 23-Jul-18 @ 10:14 PM
Considering our first venture into buying an existing b&b, which is best option. Freehold with mortgage or leasehold. If leasehold what financing options are available.Thanks
WILL - Your Question:
As a new owner of a b&b I am trying to find out if someone needs to be on site overnight when you have guests staying Between the ours of 11.00 pm & 07.00 Many Thanks jason
---
Our Response:
There doesn't seem to be anything documented that states you must be onsite overnight, you must make sure you have adequate security and fire safety measures in place. There is a really useful document to help with this
here
StartABedAndBreakfast
- 12-Jan-18 @ 12:17 PM
As a new owner of a b&b i am trying to find out if someone needs to be on site overnight when you have guests stayingBetween the ours of 11.00 pm & 07.00Many Thanks jason
WILL
- 10-Jan-18 @ 2:53 PM
Hi, I would like to know, if any member of staff should stay within the premises of a B&b for health and safety regulations. Your help would be very much appreciated as I am managing a B&B for the very first time. Many thanks, Divya
Divya
- 27-Nov-16 @ 11:49 AM