Buying an Existing Business or Starting from Scratch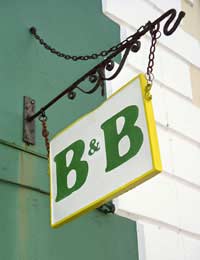 Whether you should buy an existing bed and breakfast or start a new business in a suitable property is much more that of a financial decision. There are risks associated with both options and a clear-headed assessment is required before deciding which route to follow. Let's look at buying an existing B& B first, then compare it with starting a business from scratch.
Buy an Existing Business to Get Started Quickly
You can cut out a lot of aggravation by buying an established business. The guest rooms will have had all the work done to make them comfortable and compliant with regulations. If you're lucky, they'll all have en suite facilities too, something that's expected by most customers now.
Look at the fabric of the building and the fixtures and fittings with a critical eye and weigh up the cost of putting anything right, or changing the property to reflect the sort of business you want to run, rather than that of the current occupants.
As well as looking at the accounts of the business you should look at the forward reservations to gauge potential. Looking at the guest book will show you what visitors have written, and look for visitors who have returned many times – that's always a good sign.
Why is the Business Being Sold?
The crucial question is – why are they selling? If it's genuinely because they are retiring, or simply tired of running a B & B and off to do something else, then that's probably ok. Equally many bed and breakfast owners find they have to give up as their children get older and it's too demanding.
What will not be ok, is if the competition in the area has grown too strong, there is a major development about to be built that will damage the ambience of the area, or if the business is failing for some other reason outside your control. If you think you can resolve the business's failings, because you're coming in with new vigour, then you may still decide to buy the business, but the key point is to be aware of the risk, quantify it and accept it.
Starting From Scratch
In contrast, starting a new business from scratch, whether you buy a suitable property or convert your own, will mean that you are starting with a new slate and will not inherit any of the failings of the current business. You might decide, after looking at suitable existing businesses, that to repair them and renovate them to your standards might cost the same as converting an existing property.
One of the costs you can avoid by starting from scratch is the add-ons associated with buying any business. You will be expected to pay for existing forward bookings, and probably more for the fixtures and fittings than if it were an ordinary house, as you are buying potential as well as hardware. There is also usually a charge for goodwill, essentially buying the reputation of the existing business, rewarding the sellers for building up the business.
If you're going to be hiring staff, perhaps people to help with cleaning or cooking, then starting from scratch means you can choose your own staff, whereas buying an existing business means that you may be obliged to take over the existing staff as well.
Due Diligence is Key
Whichever road you go down, impartial and, as far as possible, non-emotional assessment of each available business or property is the only way to ensure that the risks are managed and your B & B is starting on the road to success from day one.
You might also like...