Choosing Furniture For Your Business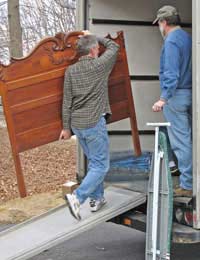 Many bed and breakfast businesses make the mistake of using furniture well past its sell by date as an economy measure. While we wouldn't advocate throwing furniture away every season, it's a good idea to replace or repair it before it becomes obvious to guests that there is a problem.
Where to Buy Bed and Breakfast Furniture
Assuming you are running a bed and breakfast that's doing it's best to appeal to a cross-section of people then it's best to get furniture that's plain and hardwearing. It can be bought from ordinary furniture shops, where if you are buying in quantity you may be able to get a large number. There are also wholesalers who sell hotel, B&B, restaurant and office furniture and they are not only likely to have better prices but they may also have furniture that you could not easily buy in the high street.
An example of this benefit is with dining furniture where the table bases and tops are sold separately. This means that you can refresh a jaded dining room by replacing the tops with something more contemporary and keep the same base units, if they are still in good condition. Or, conversely, if the legs of a base unit are damaged the top can be re-used and that's money saved. This makes your dining furniture last a lot longer.
Options for Bedroom Furniture in a B&B
With bedroom furniture the beds themselves are of course very important for a bed and breakfast. Many bed and breakfast owners use twin beds rather than doubles so that they can be separated or pushed together to suit each client's needs. This is obviously good for flexibility but couples often feel short-changed by the arrangement.
Perhaps a better idea is a 'guest bed' which looks like a single bed but a second single mattress and bedstead is underneath. This can be pulled out and up to form a double bed. Although you still have the same issue of having a double bed but two mattresses, psychologically it's better because the couple know that it's an emergency facility, not the usual double bed offering.
Featuring Furniture in Your Bed and Breakfast Publicity
A quick search on the internet reveals that many bed and breakfasts actually make a feature of their furniture if it is perhaps antique, luxurious or of contemporary design. This is a tricky act to copy without investing a lot of money so be careful before going down this road.
If you advertise antique furniture then you really do need to have antiques, not just quite old furniture, and it will have to be in good condition because it will be used, and used well. One solution is to buy properly made reproductions; although they are expensive they should last well, better than chipboard and MDF furniture. Crucially if they are broken, they will be repairable.
Don't Overlook the Cheaper Options
At the other end of the spectrum we have the second hand market. Although many people might baulk at this, there are big savings to be made as long as the furniture is in good condition. There are a number of large warehouses around the UK where office furniture rubs shoulder with bedroom furniture in vast numbers. If you are revamping all of the bed and breakfast's guest rooms and need bedroom furniture for five or six rooms, these larger emporia will have sets that will do the job at a bargain price.
Some of the furniture is 'refurbished' and there is a limit to the 'refurbishment' that can be done on chipboard, so look for quality furniture rather than furniture that was cheap in the first place.
But Never Buy Cheap Mattresses
One area where you should never scrimp or go secondhand is mattresses. A poor mattress can kill a bed and breakfast's reputation and for a business that thrives on repeat business and referrals that can be the end.
You might also like...
im openning a b & b in botswana and this has helped me a lot
lilly
- 24-Dec-11 @ 6:25 PM