Create an Office in Your B&B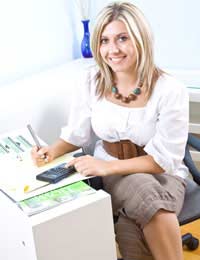 An office for your B&B might seem like a luxury, but, particularly with the increasing use of computers and the internet in business, a workplace with the right environment to focus on bookings and other B&B administration is an excellent idea. It doesn't have to be a completely separate room but there should at least be a workspace cordoned off in the family area and not in an area where guests can wander.
How Much Space For a B&B Workspace?
There are a number of items that any B&B owner needs to be able to access at any time and that's the main reason for having a separate workspace. If you have children they must understand that the office or office area is out-of-bounds. You need a phone, fax and the booking diary or computer, depending on where your single point of reference for B&B bookings sits.
Then there's the paperwork that needs to be available but not immediately to hand. There'll be past booking records, day-to-day financial paperwork, tax records and made-up accounts. Paperwork should be kept for at least over seven years so past years can be boxed up and placed somewhere else, but you should keep at least the current year and perhaps last year's close to hand.
A Separate Office is the Best Environment
If you have a small bedroom that can be given over to an office then all the better, this means you can close the door on the family mayhem and create the right environment to get the admin work out of the way as quickly as possible. If you can go to the expense, consider a telephone line purely for business that will go through to the office and keep personal calls well away from paying customers.
You can also consider getting broadband on that line, if it's available, then your website updating and emailing to clients won't be held up by the children's surfing. This can be offset as a business expense so you won't have to pay tax on it. Indeed, if you have a separate room as a workplace you ought to be able to claim some proportion of mortgage payments as a business expenses. This is a tricky area though, and independent financial advice should be sought before making any decisions.
If there's no spare room available then the 'office' will have to be in a corner of another room, not the perfect environment for a workplace but better than nothing. It is likely to be harder to get a separate telephone line in, and that may be pointless if the workspace happens to be in the main living room. That should, of course, be avoided at all costs as it will be far from perfect as a workspace.
Every B&B Owner Must Have a Non-Workplace Sanctuary
There's one other room that should be avoided, when looking for somewhere to create a workplace environment, and that's your bedroom. Running a B&B can be a very invasive occupation and it's essential that you have at least one environment that's kept completely separate from it.
You might also like...