Specialist Add-ons Such as Swimming Pools or Gyms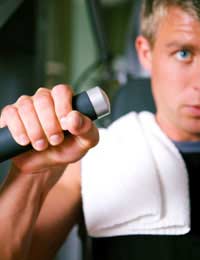 Some B&B owners are installing prestige facilities such as swimming pools and gyms as well as pet facilities to appeal to more guests. As we've pointed out a number of times, in our articles on setting up and maintaining a successful bed and breakfast, aiming for a niche market can improve your chances of attracting guests and charging higher room rates. But the costs of these specialist facilities have to be weighed up against the potential increase in revenue that they might bring in.
B&B's Must Invest in Guest Facilities
It makes sense to invest in your B&B in any case. Constant investment will keep the rooms looking fresh and new and give repeat customers something to look forward too. On the other hand, you don't want to change the style and ambience of the B&B so much that previous customers are put off. This can be a tricky balancing act.
Consider Swimming Pools and Gyms Very Carefully
As the various tourist boards throughout the UK strive to improve the standard of accommodation through the country the en suite has become almost the norm, and whirlpool and spa baths in rooms are not uncommon either. Swimming pools are still a rare sight though. Apart from anything else they really have to be covered in the United Kingdom, something that makes them a good deal more expensive.
If you do think that a swimming pool would make a good financial return, make sure you do all the sums. As well as the upkeep and maintenance of the swimming pool you need to consider that it elevates your B&B into a different league. This means that a swimming pool on its own might look a bit out of place and that you may have to install a gym, steam room, jacuzzi and other items to make a full health and fitness suite.
There are also the health and safety implications of a swimming pool and gym to consider too, but consider that a B&B with all these facilities, as long as the rooms are excellent quality too, can probably charge double the local going rate for their rooms.
Pet Facilities Allow Marketing to Another Niche
Pet facilities come into the same category, you have to assess the costs and be sure that you will benefit in the long run. If you are attacking the 'people with pets' niche then you need to think of all the pet facilities that your B&B will need to provide. To be honest, it's mostly dogs that you need to cater for, and you will need to decide if you are going to let them in the house or provide accommodation in the form of kennels outside.
You will also need to make provision for pets to relieve themselves, preferably not in the same sculptured and manicured garden that your guests will be walking in. If providing facilities for pets is going to be a major feature for your business, you might also consider staff costs if you're prepared to pay people to muck out the pet facilities so that you don't have to do it.
You might also like...