Branching Out Into the Spa Market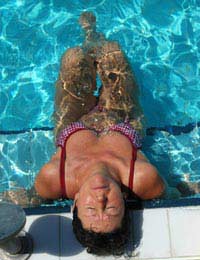 Many B&B establishments and small hotels have made a name for themselves by moving up a quality bracket into the spa market. But what's involved with turning your bed and breakfast into the right venue for a spa break?
One thing's for sure, if you think you can get away with installing a Jacuzzi in a corner somewhere and advertise yourself as a spa hotel then you'll be very much disappointed. Your business reputation will be severely tarnished in the time it takes for the bubbles to go flat. It isn't just the bubbles in the bath that make a spa venue.
What Should a B&B Spa Offer?
First let's look at what a spa is and what it isn't, although there aren't any hard and fast definitions to work to. There isn't many a bed and breakfast business that will have the room for a swimming pool, which would be an absolute must for a spa hotel. But customers would not expect a swimming pool in any B&B, so the spa facilities can be a bit more minimalist.
Try to have a defined area for the spa facilities though, a separate room, perhaps a conservatory, if there isn't a swimming pool area to be used. It needs to be light and airy but private too, and not so small as to feel cramped and hemmed in. There should be a Jacuzzi at the very least, and a sauna or steam room if at all possible.
Jacuzzi, Sauna, Steam Room and a Treatment Room?
But having a Jacuzzi and a sauna or steam room may not be enough, you should also consider a treatment room. Using the word 'spa' in your advertising and marketing material does generally lead people to expect massages and other beauty treatments, even if it is a B&B rather than a hotel.
Whether or not you can stretch to this means being able to get hold of someone locally who will provide the treatments, or training one of the family up to deliver them. Having someone on site to deliver treatments whenever they are requested is an excellent selling point.
If not, you have to call someone local to try and arrange an appointment at a time that suits them and your customer. The chances of that working out are slim, particularly if your customer is only staying for a night or two, which is often the case with a bed and breakfast.
Revamping the Whole Bed and Breakfast
But it's not just the spa facilities themselves that will need to be top quality. Customers who see the word spa will be looking for the very highest quality decorations and furnishings throughout the building, not just in the spa area.
And it has to be kept that way too, not left to get faded and jaded. This means redoing the decoration more than usual and replacing bedding and furnishings more often than in an ordinary B&B.
This all costs more and needs to be factored in to the business plan to see if the higher room rates will cover these increased costs and make more profit into the bargain.
You might also like...