Should You Accept Pets at Your B&B?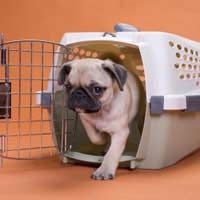 Long gone are the days when B&B's were run by gruff women with draconian rules – if you want to be successful, the customer has to come first.
Now, at the start of an article relating to accepting pet at a B&B, you can be forgiven for expecting us to launch into a tirade and insisting that you accept all sorts of pets just to keep your customers happy. But we're not going to do that.
Be clear whether or not pets are welcome
What we will say is that if you love pets and animals, and have the facilities to be able to offer pets what they need, then there's nothing to stop you being a pet-friendly B&B. Equally, if you're not really a pet person and you don't have the space or the facilities, then don't do it.
Either way, it's absolutely crucial that you let your guests and prospective guests know, right at the start, whether or not pets are acceptable, and what facilities you have. Then you won't have disappointed dog owners turning up with nowhere to put their little treasure, and equally you won't have couples expecting a quiet retreat cancelling after the first night because Fido and Trixie, the dogs staying with the couple next door, have kept them up all night.
So set your customers' expectations and make sure they are met.
Facilities for pets at your B&B
Assuming you have decided to accept pets, or at least some pets, make sure the things they will need are at hand. If it's cats, have litter trays and litter available. Not many people travel with cats but if they do, they'll probably want to keep them indoors, as cats are prone to running off in unfamiliar surroundings (usually back home, although it can take a while!), so make sure they have everything they need. Spare feeding bowls and emergency cans or bags of food are a good idea too, in case a guest forgets to bring theirs along.
Dogs – the main B&B pet demand
Dogs are far more common as travelling pets and many B&B owners make a point of featuring their dog-friendly-ness as a positive marketing point. Enclosed gardens with poop scoops and bins, permanently refreshed water bowls and, preferably, a car park that's onsite rather than down the road, all help to let dog owners know how easy it will be to keep their dogs with them.
Large rooms are also useful. With many B&B's shoe-horning double beds into rooms that have had the vital en-suite squeezed into a corner as well, the remaining floor space can make it very difficult for a large dog to lie down for the night. Some dog-friendly B&B's will state their limitations, such as two large dogs, or three small-to-medium dogs, on their websites and brochures.
Marketing the pet-friendly B&B
That brings us to the marketing aspect of accepting pets at your B&B. If you do go for it, make sure that everyone who wants to go on a pet -friendly holiday knows you are happy to accept them. It must be prominently displayed on your flyers at the tourist offices and other attractions, on brochures, on the boards outside your house and, crucially - your website.
The internet is the first port of call for many people going on holiday these days. If your B&B isn't coming up when people search for "pet-friendly B&B in Devon" (or wherever you are), then you are going to miss out on their custom.
Internet directories
Make sure your entries on B&B directory sites mention that you take pets, what kind, and in which rooms they are welcome. Many B&Bs will not allow pets in the kitchen or dining rooms, for fairly obvious reasons, and many also stipulate "well-behaved" pets, although that could be a very subjective judgement!
There are also many B&B directories springing up which specialise in pet-friendly or dog-friendly B&B's and a quick search will find them. It's not clear how successful they are but the more directories you are on, the more likely you are to be found. Another point about these directories is that searching them yourself will tell you if you have significant competition.
At the time of going to press, the three or four directories we looked at showed that many counties in the UK have no pet-friendly or dog-friendly B&Bs listed, and the most was around a dozen, in both Devon and Yorkshire (depending on which directory site you look at).
Now, the accuracy of those figures depend on how successful each directory is in placing guests with B&Bs, and generally the only way you can find that out is to advertise with them and see how it goes. Make sure you can sign-up for a year then get out without cost if it doesn't work out, and make sure you are asking your guests how they found out about you so that you can gauge the success of each directory.
The pet-free B&B
Having said all that, it's equally important, if you've decided you do not want to have pets, to make that very plain too. Make sure that in all brochures and internet directories that your entry shows this clearly and there shouldn't be any misunderstandings. If you aren't clear about pets you are likely to have to field calls from pet-owners who want to find out if you do take them, so state clearly that yours is a pet-free venue rather than just not mentioning it, and you won't have to deal with that.
This isn't a bad choice, as there may be many customers who will be happy to stay somewhere where they are less likely to be disturbed by frisky pets. But it's vital to be plain about it, then both pet owners and the pet averse will know exactly where they stand.
You might also like...