Seasonal Promotions for a Bed & Breakfast Business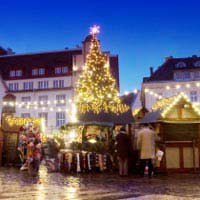 You may be in the enviable position of constantly turning business away from your B&B, perhaps in a popular holiday resort where there are more visitors than accommodation. But for most owners looking for ways to attract more guests is a top priority. When the main holiday season is over you have to come up with ideas to market your B&B. This is the time to take a good look at your region and find out what's going on.
Target Christmas and Easter Holidays
Christmas and Easter are the obvious places to start but look at the lead up to these festivals too. You might be in a town with a well known Christmas market. Find out what is planned and how you can make this appeal to guests. The first step is to target your existing customers with special offers, then extend your marketing to newspapers and magazines. If there is a specific seasonal tradition in your area, make it known so that it attracts more visitors.
Many people travel to be with their families at these times. Maybe you have the facilities to offer a slap up meal for Christmas or Easter? At Easter, find out if there is an Easter egg hunt or race that will appeal to families and have that as your main attraction. Turn these holidays into a short break.
Other Religious Festivals
Then there are the major holidays and festivals of other religions. Areas with a good sized communities from various cultures have big events such as the Divali (a festival of light celebrated by Hindus, Sikhs and others) celebrations in Leicester. Have words with community leaders in our area to see if there are other festivals and holidays that you might not be aware of. They could fill empty rooms with a bit of canny marketing.
Other Special Days
Mother's Day should not be overlooked. Perhaps you are in town with a wonderful theatre or a luxury spa. You could promote special offers appealing to people wanting to treat their mums. It is worth visiting the spa or theatre to see if you could join forces and make your promotion irresistible.
The same is true of Father's Day, build special offers around services and treats in your area that might appeal to dads. What other special days might there be that you could link to an offer or promotion for potential guests?
Special Events in Your Area
Get down to your nearest tourist office to find out about major events in your region and the times of year when they are held. Take as many leaflets and as much information as you can. A quick telephone call to event organisers will confirm schedules for specific events and you can then organise your marketing strategy.
While you are at the tourist office check that your B&B appears on their list of local accommodation in the office and online. If the event organisers are sending out information to people who buy tickets in advance, why not see if you can get them to send out a flyer. Or get your B&B on their accommodation list if they are sending one out.
Your local council will also know what's happening in your region and will be more than happy to furnish you with as much information as they can, after all they too benefit from more people in their town. Look further than the immediate location too. Guests attending large events like Cheltenham Festival put pressure on hotel rooms up to twenty miles from the racecourse itself.
Marketing for Events
Make sure you update your website. List the local annual events online with details, dates and interesting facts. Have photographs of the previous year's antics and put in a link to book accommodation.
If an event has a specific theme, a literary festival for example, target the writing magazines and websites for your adverts. Make sure you are included on the organisers' websites and in their leaflets. Again, ensure the festival appears on your own website.
Find the Events and You'll Find the Guests
There is usually a traditional event or a long standing festival of some kind unique to each town or village. It doesn't take much effort to learn about them and make them appeal to your guests. There is something for everyone and with canny marketing you'll find your B&B filling up at the most unexpected times of year.
You might also like...