Local Initiatives to Promote your Business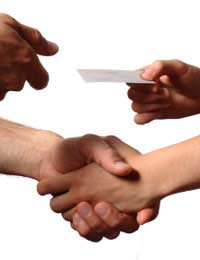 It might seem odd to be talking about marketing a B&B locally, particularly if you're in a tourist area, because you'd imagine that most of your customers are going to come from far away. But there is a sort of logic to it; there's a lot to be gained from taking the initiative to promote your business at a local level.
Local Initiatives Can Find Non-Holidaymaking Guests
For a start, many people who use B&B's are not on holiday as such but looking for somewhere cheap and friendly to stay for a different reason. It could be a wedding or another family occasion or just visiting friends in your area who don't have enough room to put up guests in comfort. Whatever the reason, if you are making yourself known locally then families who are receiving visitors are more likely to think of you than other businesses.
Local advertising is one way of keeping your name foremost in people's minds, but consider some more original initiatives too. Sponsorship of a local good cause might be worthwhile, perhaps a team strip for a local football club, which will be seen by local parents once a week throughout the football season. Perhaps there are other initiatives that are more relevant if you are aiming at a particular niche market. If you are promoting your businesses as family friendly, for example, perhaps advertising at a playgroup might be better suited.
Promote Your B&B to Business Travellers
Businesses use B&B's too. We might all think of business travellers on all-expenses-paid junkets in big soulless hotels, but there are literally hundreds of thousands of small business in the UK, many of them employing just the business owner. For them the cost of accommodation is key and if you can take the initiative and plant your B&B firmly in the minds of all the local businesses in your town, then they are more likely to refer their visitors to you than someone else.
There are also increasing numbers of business travellers who choose to stay in smaller, friendlier establishments simply because they are fed up of the identikit business hotels. If you are serious about picking up this sort of business then you would do well to invest in a wireless broadband network so that they can get online from your B&B.
Take the Networking Initiative
Consider attending
business network
ing clubs in your town, and perhaps other organisations such as Rotary or the Lions, where you can meet other business owners. Networking can be hard for many people but there will be others who will help you and can introduce you. Make sure you have business cards on you at all times and consider introducing bulk discounts for local small businesses to encourage them to place visitors with you.
You will also find out if there are events in your town, either social or business events, and with this knowledge you can perhaps pull off some promotion initiatives like getting your B&B featured in the information sent out to people who are attending.
There are always high seasons and low seasons for every holiday business and this is particularly acute in the more tourist based locations. The family and business traveller markets will have fewer peaks and troughs so they can help you out when the tourists have stopped coming.
Local Tourist Association Involvement
Finally, being active in local tourist associations is well worthwhile. You will be at the forefront of any local initiatives to promote tourism and be able to take advantage of them. Being well known to other B&B owners will also put you in the frame for referrals when other B&B's are full. But remember that this one needs to work both ways so remember to repay the compliment when you are booked up and turning guests away.
You might also like...