Promotion Through Tourist Boards and Associations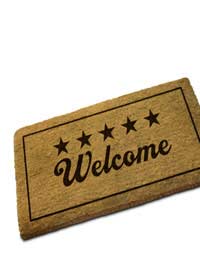 It is a very brave B&B owner who does not register and get involved with the various tourist boards and associations. As well as being a vital market for on-spec bookings, particularly the very local tourist boards, they are a source of support, marketing advice, information and other resources that can help you understand how the region you're operating in is marketed.
Tourist Boards Have Advertising Power
There are now five umbrella tourist boards in the United Kingdom: VisitBritain, VisitWales, VisitScotland and the Northern Ireland Tourist Board. From these the local or regional tourist boards are devolved, all promoting tourism in their areas.
If you aren't in with the tourist boards (and in some places membership is compulsory) then you will miss out on the destination-based marketing that the boards can afford to do, with national and international advertising promoting tourism in your specific area. There may also be other associations that are relevant either to the area or the niche that you are occupying who will undertake advertising and promotion to generate tourism on a scale that would be very difficult for you to do on your own.
Local tourist associations generally give back to you in the proportion that you give to all the other members so it's worth going to meetings to network and find out who can help you out and vice versa. Often B&B's who are full will recommend other B&B's in the area rather than lose a tourist completely and if you've made yourself known and have helped others out then you're more likely to benefit from this kind of mutual cooperation.
Classification Systems Promote Standards
Going into the tourist board world generally means entering the sometimes contradictory world of classification systems. There used to be lots of different systems in the UK but the coming together of all the tourist boards has helped harmonise generally under the star system. From January 2006 B&B's will have to have en suite bathrooms throughout to be able to claim that they are a 5-star establishment in their advertising. The star system helps the tourism industry as a whole to raise their standards.
Tourism Associations
There are a number of B&B associations around the United Kingdom too. These differ from the tourist boards in that they are commercially run organisations (but usually not-for-profit bodies), not run by the government. Whether or not you join one or more of these associations depends on what you think you can get out of it in return for your membership fees.
Many associations have used the collective buying power of their members to arrange discounts on essential products like insurance, domestic linen and all sorts of other tourism-based products and services for their members. They will also help with making new regulations understandable with newsletters and guides.
Behind the scenes these associations also use their collective power to lobby against legislation and regulations that would damage the ability of B&B's and other tourism-based businesses to operate effectively and economically, such as draconian fire regulations that are really aimed at hotels. So it might be worth joining up to add your voice to all the others.
Last Minute Tourists
It is also wise to bear in mind that a lot of people who frequent B&B's often don't make forward plans. They'll pitch up in a town and go straight to the local tourist information points to ask for a list of places to stay and if you're not on that list, then you won't even have a chance at getting that passing trade.
You might also like...
Aga - Your Question:
Hi,I am planning to start B&B but.I don't want to serve breakfast. Could I do it. I don't live at the premises and the kitchen is fully equipped with local shop next door. Can I advertise as B&B without breakfast. Please, adviseThank you
---
Our Response:
Yes there will be some way of hosting guests without actually providing breakfast. Perhaps just refer to it as self catering accommodation etc
StartABedAndBreakfast
- 11-Oct-17 @ 3:46 PM
Hi, I am planning to start B&B but...I don't want to serve breakfast. Could i do it. I don't live at the premises and the kitchen is fully equipped with local shop next door. Can I advertise as B&B without breakfast. Please, advise Thank you
Aga
- 10-Oct-17 @ 3:30 PM
@Luisa. You would need the permission of the lease owner and possibly also planning permission. Check your leasehold agreement to see whether there are any restrictions already in place. The contact the planning department (
Oxford City Council)
see whether you would need planning permission.
StartABedAndBreakfast
- 19-Dec-14 @ 2:04 PM
Hi, I am Italian and I was owner of a B&B to Venice up to last November.I would want to do in Oxford one of it taking in lease a great apartment.And' possible or are the owners of the walls able only?I thank you in advance for your answer
luisa
- 19-Dec-14 @ 1:44 PM
How do you contact the tourist board to get the business advertised?
Jacks
- 29-May-14 @ 1:53 PM
I get loads of support from our local tourist board/association in the north. Every time there is a new publication I get asked if I want a paid listing, but they give me the opportunity to do PRs for free especially if there's a relevant event on. As you say, you also benefit from laundry discounts and special offers to B&B/Guest houses who are registered.
Beebedbreakfast
- 18-May-12 @ 12:56 PM