Registering With Holiday Companies and Travel Agents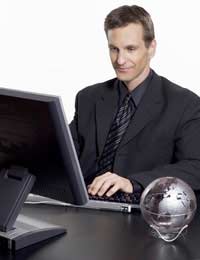 One of the ways of increasing your occupancy rates is to register the property with holiday companies and agencies who will advertise and promote your B&B on your behalf. The positive side is that you get access to their marketing and advertising budgets so your property will be seen by far more people than if you relied on your own efforts. The downside is that your property could be next to hundreds of other similar B&B's in their brochures and you'll have to pay a commission on bookings.
Research Before Registering
The first thing to do if you are considering going down this avenue is to find the agencies or holiday companies that match the market that you are aiming at. As an example, it's no good putting your B&B in with a company that advertises family friendly holidays if you don't have cots or playpens. In reality that's unlikely to happen as the companies will inspect your property before you can register with them, but the principle is clear, make sure you match the company's profile.
Make the Inspection Work For You
The inspection is the key. Although nobody likes having someone coming round with a clipboard and poking around their property, try to view it as a positive experience. Companies and their inspectors have no vested interest in making you feel bad, they just want to make sure your B&B is right for their customers. There'll be no benefit to them or you if they think that their customers won't take your property, just wasted time and effort on both sides.
So they will pick at everything but it's a valuable experience. Not only will you get an unbiased assessment of your B&B, which can give you a list of things that you can change and improve, but you'll get an insight, from someone with much more knowledge of the market than you, into whether or not you have accurately guessed the fixtures, fittings, atmosphere and service levels at your B&B to match your chosen target market.
What Are You Offering to the Holiday Companies and Agencies?
You need to be sure about what you are offering, what all your policies are and what you want to have put in the brochure or catalogue that customers will see. Make sure you have lots of good quality pictures ready for them although some will use their own photographers.
Part of your preparation should be a through look at the current catalogues so that you know what the competition is like. Use this to make sure that your B&B matches the common things that they are looking for as part of their market placement, but also look for things that you can highlight that will make your property stick out from the rest.
Check the Terms and Conditions Before Registering Your B&B
Assuming you are accepted by some holiday companies or agencies, make sure you are completely informed about the financial arrangements before you register with each one. Some may charge an administration fee when you start and then for every year that you want to be included, others will work only on a commission on bookings taken.
Find out what the commission is and what the terms and conditions are. For example, what happens if someone cancels, are you still liable for the booking commission?
Remember that this kind of arrangement is one that needs to be monitored for effectiveness, after all, you are paying for the exposure of your B&B to the customers of these holiday companies and agencies. One of your tasks when booking each guest in is to find out how they discovered your B&B, but this is easy with holiday companies and agencies as they will send you the booking details. Review each arrangement every year and be ruthless, if you've had few or no bookings from some of them, cut them out.
Make Your B&B the Best Regardless
Try not to get too downhearted if you are turned down for a holiday company or agency that you thought was the right one for you. Look at the feedback where they will detail the reasons. If it's simply because they have too many properties similar to yours in that region then perhaps there's not much that can be done about it. But if there are things that can be put right then get on and do them because it will benefit other customers too.
You might also like...