Choosing a Colour Scheme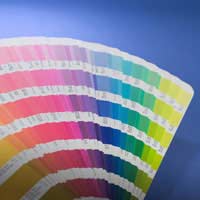 While controlling costs is very important for a bed and breakfast, economising with the decorating by painting the whole place in whatever colour was on offer down at the DIY shop is probably not the best option. Of course no self-respecting bed and breakfast owner would do that, but how far do you go down the interior design route?
In most bed and breakfasts the areas that guests see fall into three categories in terms of design and colour schemes. There are the public rooms downstairs, such as the dining room and any lounges, the guest bedrooms, and the corridors and stairwells connecting all the rooms.
Bed and Breakfast Colour: Stairs and Corridors
Starting with the easiest to choose but the hardest to paint, the stairwells and corridors of a bed and breakfast almost certainly need to be a pale colour to keep them from being dark and forbidding. A pastel or one of those 'white-with-a-hint-of-something' is probably the darkest you would want to go.
These areas will also get the hardest wear in a bed and breakfast as everyone comes and goes, banging their bags and suitcases up and down the stairs, so make sure you hold some paint back for quick touch-ups every month or so to eradicate or disguise bangs and knocks. Every month? Yes, if you want people to remember a clean and well kept establishment.
You can even have white emulsion long as it is softened by other colours, perhaps in the carpets and curtains, otherwise it will look too stark or washed out. You could accent the white or pale colour with darker paint on the skirting boards and other woodwork, but don't make it too great a contrast.
Bed and Breakfast Colour: Guest Bedrooms
In a bed and breakfast's guest bedrooms you have a chance to try out some design ideas with colour. Many bed and breakfast guests will ask to see some of the rooms before making a choice and if they all look the same it's going to give a bland impression. What you could do, if you get an unbelievable deal on thirty gallons of magnolia, is use it on the walls but then have completely different themed bedclothes, curtains and other accents.
If some of your guest bedrooms in your B&B are very light you can risk designs with bolder and darker colours on the walls. Perhaps you have a Victorian or Edwardian bed and breakfast in a seaside town, with large bedrooms and high ceilings.
Rich blues or dark reds can give a room a very grand air, but you'll almost certainly have to paint the ceiling white as a counterpoint. This is a risky ploy, it can either look sumptuous or it can be dark and broody and if you are uncertain it's best to bring in an interior designer to help you out.
Bed and Breakfast Colour: Public Rooms
Back downstairs in the reception rooms of your bed and breakfast you might need to colour co-ordinate a bit more. Having the same colour in the dining room and the lounge (or lounges) will tie the public rooms together. It's not essential, of course, if you have a room that is very light and can take a darker colour then away you go.
But remember that the lounges and dining room in a bed and breakfast will get more wear and tear than the guest bedrooms and so will need re-decorating more frequently, so buying an expensive shade is probably out. That then leads you back to white or magnolia, or lighter pastel shades.
Be Careful with Design
One over-riding warning though, to end on. You must not decorate your bed and breakfast the way
you
like to decorate. Remember that you must appeal to everybody and yes, that might mean design and colour that's a bit bland, but better that than alienating guests.
You might also like...